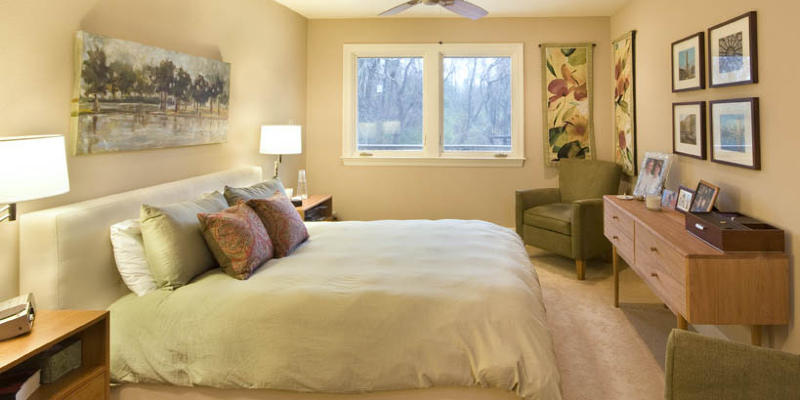 Homeowners Alicia and Andy Paulson decorated their charming 1927 English-style home in Southeast Portland using a carefully curated collection of handmade crafts and arts, thrift-store antiques and finds. Alicia, a craft designer, and Andy, a nurse, and both state their home is their favorite place to be, and they have created a space that is every bit as useful as it's beautiful.
at a Glance
Who lives here: Alicia and Andy Paulson, their corgi and 2 cats
Location: Portland, Oregon
Size: 1,920 square feet; 3 bedrooms, 2 bathrooms
Julie Smith
Julie Smith: What motivates your decorating style?
Alicia Paulson: I'm very affected by Nordic design. It reminds me of my Swedish-founded faculty, Augustana, once I was independent for the first time and able to decorate my living room and apartment. I didn't notice it then but I could see now that the Scandinavian style of this campus, as well as my 2 roommates (who were both Scandinavian and had plenty of classic multicolored bits ) have a lot to do with how I decorate.
That portion of the world stocks many of the same problems we do here in Portland (like light and the absence of it) and they use lots of white and white white timber, which I love. The painter Carl Larsson has been very powerful to me personally over the years. I am also inspired by Eastern European style.
Wool throw on chair: Pendleton Wool
Julie Smith
Julie: What was your proudest homeowner moment?
Alicia: Not too long ago we replaced 2 enormous plate-glass windows in the front of the house using a series of paned-glass casement windows. I adore being able to open the windows now. It is really much nicer.
Andy: I like the moment after a dinner party, when it has gone well, and the light is right, around dusk, and we are all using the distance. In addition, I like when my friends come back into the Herring (the garage) and it strikes midnight and we are looking for something to do and the place is already set up. I love that.
Sofa: Sofa Table Chair
Curtains: Country Carpets

Julie Smith
Julie: When you first saw your house, was it love at first sight?
Alicia: Yes and no. I didn't like house hunting as far as I believed I would. But relative to the other homes we're looking at, I truly did like this one. I wanted a built-in linen cupboard and also the one in this house sealed the deal!
Entertainment centre: Ikea
Coffee table: Sofa Table Chair
Julie Smith
Julie: How can you select your paint or color palette?
Alicia: I watched that the Benjamin Moore Ancient Colours at a local paint store and adored them. I've always been attracted to blues and grays (gray is my favorite color) and since most my previous paint colours had been mishmashed through the years, I chose to go with a genuine collection. I also tested my paint colours for the first time and that made a huge difference.
Julie: What did you do to make it all yours? When did it really feel like that your house?
Alicia: The exterior was painted the color of a tennis ball (with pink and purple trim) and I certainly did not love that. Each of the walls in the interior of the house were painted lemon yellow and it felt as though you're in the interior of a Peeps marshmallow. I'll admit it was nice and bright in here, just not the kind of bright I was searching for. So the very first thing we did to make it ours was counter the exterior the color of chocolate ice cream, and repaint the entire interior. However, the house felt just like ours that the day we closed on it.
Andy: There was a moment after we had just purchased the house but we were still living in our old apartment, and I went and sat on the staircase of this new empty house and played clarinet. I remember feeling as though it was our property. In addition, I remember looking at the big old-wood beams in the basement and believing that this was a significant responsibility, and that we needed to take care of this place.
Wall colours: Wythe Blue, Stonington Gray, and Wickham Gray out of Benjamin Moore
Trim color: Floral White in high gloss from Miller Paint
Dining table: Monticello Antiques
Hutch: Ikea
Pendant lights: Rejuvenation

Julie Smith
Julie: What is your main design dilemma?
Alicia: I know this is true of many homes around here but I hate that we don't have a genuine entryway or a front hall closet. When you come in, the front door opens directly into the center of the living room. We have added some hooks for coats and a small shelving unit from Ikea to hold baskets for keys and dog leashes, but it's still a continuing challenge.
Curtains: Country Carpets
Julie Smith
Julie: If you have four famous people over for dinner, who would you invite?
Alicia: Zooey Deschanel, The Avett Brothers and Gena Rowlands (I've always adored her).
Andy: Willie Nelson, Steve Martin, Jeff Tweedy and Shawn and Gus from Psych. (That's five.)
Cabinet hardware: Home Depot


Julie Smith
Julie Smith
A lovely table set with fresh hyacinths, pottery, wooden chargers and dishes out of Target.

Julie: Your Most Recent splurge?
Alicia: Silver-plated flatware on eBay.
Julie Smith
Julie: Where are your favorite places to look for your property? What is your ultimate dream home item?
Alicia: Ikea, Etsy (I buy a lot of stuff off Etsy), Pottery Barn, Stars Antiques in Sellwood and Monticello Antique Theater on Stark. I'd like to splurge on a super magnificent jetted spa for the backyard.
Andy: We are not getting a spa.
Alicia: Apparently we are not getting a spa.
Storage shelves, kitchen island, lamp: Ikea
Julie Smith
Julie: Do you have any hidden talents that most individuals don't know about?
Alicia: No. If I have any talent, I tell everyone I know about it.
Andy: Yes.
Curtains: Country Carpets
Julie Smith
Julie: If your house was on fire and your pets and family were safe, what's the very first thing you'd grab?
Alicia: My external hard drive, my computer, my photograph albums and my grandma's cuckoo clock.
Andy: The Fry Buyer (my bass guitar) and my Moog synthesizer. In fact, I wouldn't be concerned about anything too much if we were safe and sound.
Lamp: Ikea
Julie Smith
Julie: What do you love most about living in Portland?
Alicia: Oh my, so many matters. I love that the whole city feels like one area, and that none of it feels exclusive. I also really like being close to downtown. When I was young growing up outside of Chicago, going downtown was really intimidating and this ordeal. It is really easy to get around here. And I know that it's cliché but it's pretty amazing that you can get 1 hour from the city and be in the center of the nation.
Julie Smith
Julie: How would you finish this sentence: My house is my…
Alicia: Earth. It sounds ridiculous but everything I do would be here. Sometimes when I leave the house I feel like I am on a different planet.
Andy: Favorite place in the world.
Snowflake mobile: Pottery Barn Kids
Pillow shams: Restoration Hardware
Curtains: Retro Barn
Julie Smith
A pleasant little nook off the master bedroom.
Gingham chair and cabinets: Ikea
Dressers: neighborhood going-out-of-business furniture sale

Julie Smith
Julie: Are there some things that you just can't eliminate? What is your solution to clutter?
Alicia: My solution to clutter is Goodwill. I receive a lot of stuff out there too, so I keep things in turning. My philosophy: Do not look back. Let it go.
Andy: I always seem to get a big pile of stuff that I am working on, like letters to individuals, stuff for videos I am making, music — stuff I pick up that I'm interested in. I don't really have a fantastic solution to mess. I attempt to prioritize what I've accumulated, finish my projects and get rid of everything. I attempt to purge frequently but I don't do a very good job with it.
Julie Smith
Light fittings: Rejuvenation
Julie Smith
Embroidered pillow: Handmade by Alicia; routine found in her publication Embroidery Companion
Julie Smith
Julie: The idea of gardening is…?
Alicia: Excruciatingly painful. Physically, that is. I like the planning; hate the planting.
Andy: I like the planting; hate the planning.

Julie: What is your favorite part of the house?
Alicia: I love the kitchen doorway we place in this summer. It leads to our new deck and I am so happy that the interior and the outside of our house are finally linked. It has been life changing, actually. What were two different living areas are now whole.
Andy: I like the whole house. Along with the green bloated seat in the living room. Along with the garage, that is my distance. And I like Alicia's studio. Actually, I like anyplace Alicia is. I love the backyard and the deck in the summer. Along with the hammock.
Julie Smith
Alicia and Andy at Mount Hood.
Watch and see more about Alicia's creative ideas.
More:
Colorful and Contemporary in Portland
Warm and Inviting Bungalow in Portland
Next: Browse countless inspiring homes