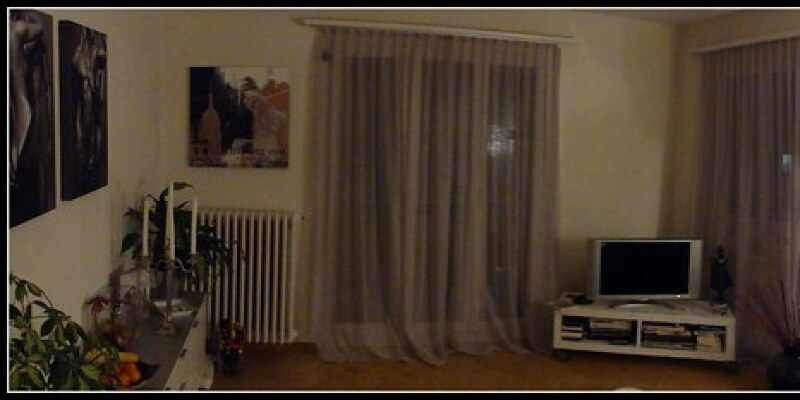 Rachel Anderson is a major fan of upcycling. The blogger and jewellery manufacturer gets creative with significantly less in her family's Austin, Texas, townhouse rental, which she shares with her husband, Scott, and their toddler, Ruby. In fact, her online store, aptly called One Man's Trash, is an ode to recycled substances.
"I constantly brake for thrift shops and flea markets," she states. "It is not strange to see me and Scott hauling old wood beams and junked furniture around our area." Adding secondhand locates and a playful sense of color, their rental house is a comfortable showcase for the couple's eclectic DIY style.
in a Glance
Who lives here: Rachel and Scott Anderson, daughter Ruby (age 3) and their Golden Labrador, Benny
Location: Austin, Texas
Size: 1,350 square feet; two bedrooms, 11/2 bathrooms
Sarah Greenman
This comfy seating area is centered around a rock hearth and built-in bookcases. Rachel lately painted the walls gray, inserted her DIY artwork and organized the library by color. "I start shuffling and shifting and adding before things come together in a gorgeous and frequently surprising way," she states.
Wall paint: Fashion Gray, Behr
Before Photo
This was what the distance looked like before the Andersons moved in.
Sarah Greenman
AFTER: The townhouse has an open-concept living and dining room, and tile floors that are ideal for the household dog.
Almost every piece of furniture seen in this photo was either procured in a secondhand shop or salvaged from Dumpsters, including the upholstered sofa that Rachel painted cobalt blue.
Before Photo
Sarah Greenman
Rachel's sofa makeover utilized under a quart of paint and price only $25. She followed this online tutorial. "Our sofa was a shiny brocade, and I utilized the glossiest paint I could get," she states.
Using a stiff paintbrush and an equal mixture of blue paint and the fabric medium Delta Ceramcoat, Rachel pushed down the paint firmly to the weave. She recommends having a flat paint for cotton finishes and misting the upholstery with water before cleaning the color. "You want an almost watercolor-like wash to bleed into your upholstery," she states. "It is as if you are staining or dying it, instead of coating it"
Sofa paint: Dark Cobalt Blue, Behr
Sarah Greenman
Scott works as a first-grade teacher and has lots of practice keeping kids organized. He replaced the coffee table having an upholstered ottoman that stores their daughter's playthings. "If teaching has taught me anything about little kids, it is they have to get a very clear system for placing items away," he states. "Too many options equals a wreck, and everything needs a specific place. Then it becomes a game and empowers them to look after their distance."
Sarah Greenman
A painted front door opens directly onto a staircase that leads to the house's two bedrooms. An original painting created by Rachel hangs in the foyer, while a classic wall sconce hangs above a tufted thrift store armchair. Rachel made the throw pillow with some scrap cloth. "I am a sucker for classic and never fulfilled a brass sconce I did not like," she states.
Wall paint: Fashion Gray; door paint: Botanical Green, both by Behr
Sarah Greenman
A 1960s-era console displays favorite books and vases beyond the range of the couple's toddler. "Sometimes I think toddlers would be the archnemesis of decorating. But realistically, with Ruby, I just can not have that temptation sitting around; it is not secure," says Rachel. "Every thing in our home keeps moving up, so the upper 4 feet of the home is beautifully decorated."
The painting on the bottom right-hand corner of the dining room wall is a self-portrait by Rachel.
Blue lamp foundation: Goal
Sarah Greenman
A bunch of prints, vintage art and original paintings hangs above the table. Rachel is an avid collector also appreciates shifting out the art once the mood strikes. "I adore sumptuous bohemian patterns, but I also really love clean lines, symmetry and a few traditional components," she states.
Wall paint: Fashion Gray, Behr; chairs: Stefan, Ikea
Sarah Greenman
The Andersons counteract the lack of lighting in their galley-style kitchen using a strategically placed mirror. The mirror acts as a reflective light source in the darkest corner of the home.
Rachel covered the present fluorescent lighting using an upturned basket-style lampshade found at a local thrift shop. The natural basket weave casts a bright, warm glow on kitchen surfaces.
Sarah Greenman
After the Andersons moved into their house, backyard was empty except for a concrete step and a significant tree. They added an outdoor seating area and a playspace for Ruby, shown here. A kid-size dining table and easel provide lots of room for projects and imaginative play.
Sarah Greenman
Ruby's sage-green bedroom has a mixture of furniture purchased from Craigslist and thrift shops. Scott painted the mattress a complementary bubble gum pink and suspended a gauze canopy overhead.
The chicken poster above the dresser was created for the 2012 Minnesota State Fair by Rachel's stepfather, Joe Heffron. Scott's first-grade pupils painted the surrounding artworks for Ruby when she had been born.
Sarah Greenman
The master bedroom includes a boho vibe, achieved with saturated hues, ornate textiles and low lighting. Rachel created the makeshift canopy working with a lacy piano shawl.
Wall paint: Spiced Plum, Behr
Sarah Greenman
The bedroom contains a little office space for Rachel, where she can work on her website, Beauty In Bits, and tend to her jewelry pieces and her Etsy store, 1 Man's Trash. Rachel artwork hangs above the desk.
Purple file holders: Kassett, Ikea
Sarah Greenman
Ruby, Rachel and Scott put playing princess hold to get a family photo with their dog, Benny. "My house is a place for self-expression," Rachel says.
Show us your colorful home
Read more homes by design:
Little Homes | Colorful Homes | Eclectic Homes | Modern Homes | Contemporary Homes |
Midcentury Homes | Ranch Homes | Conventional Homes | Barn Homes | Townhouses | Apartments | Lofts | Holiday Homes
More: Improving a Rental: Great Thoughts for the Long and Short Haul