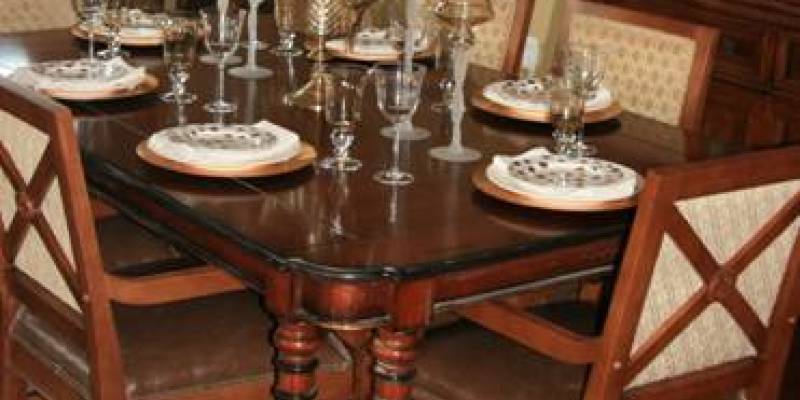 The holidays are a time for gatherings with family and other loved ones. If you're like our family, you have one set of everything for the dinner table, which sometimes forces you to get creative when decorating. By simply swapping out small details, like flowers and accessories, you can achieve these pretty tablescapes that may transition out of a Christmas gathering to a on New Year's Eve. Each setting features the exact same tableware, cutlery and table runner, even although the two styles are very different. Whether you are opting for contemporary or rustic this holiday season, discover your inspiration under.
Holly Marder
Holly Marder
Rustic Modern Tablescape
This fresh take on a rustic tablescape is created via a colour palette that marries shades of gray with crisp white, while pulling on natural and wood elements for rustic appeal.
The main feature of this tablescape is the magnificent centerpiece. Made from fresh flowers attached with twine into a branch, it could be readily re-created following the instructions below.
Chairs: Sigurd, Ikea (left), Hee by Hay (right); table: Cartel Living; pendant: Studio Snowpuppe
Holly Marder
Straightforward dishes and cutlery are given star treatment with a bit of creativity. Create this easy napkin ring by affixing a name tag with twine into a napkin folded in thirds around your cutlery.
Dinnerware: Xenos; name tags: It's about Romi
Holly Marder
Potted anemone blossoms sit prettily in an oversize glass jar. The bark-covered pot offers just enough rustic appeal, although the jar makes for a fuss-free and magnificent addition to the dining table.
Wineglasses: Ikea; table runner: Tas-ka; gray platter: Serholt Sweden; newspaper snowflakes: Broste Copenhagen
Holly Marder
How to Produce a Floral and Branch Centerpiece
Materials:
Dried division or big twigLeavesFlower stems TwineScissorsI used the division of a grapevine plus Eucharis, Ornithogalum, Euphorbia and chamomile leaves.
Holly Marder
1. Carefully tie a stem of leaves on the branch together with twine. Ensure that you have some excess twine so that you can tuck it underneath the branch and use it to attach additional greens.
Holly Marder
2. Continue attaching flowers, attempting where possible to shape the branch together with the stalks and procuring them with pieces of twine.
Holly Marder
3. As you continue to add leaves and flowers into the branch, it is possible to layer and tuck blossoms between the cracks of the branch.
Holly Marder
4. Once you've procured the desired variety of flower and leaf stems, carefully set the lovely handmade headboard on the dining table for everybody to enjoy. You could even repurpose this after the meal to dress up a games or coffee table.
Hint: The centerpiece ought to last at least a few days, depending how fragile the blossoms are. Swap in flowers that are new, since the blossoms begin to wither.
Holly Marder
A mixture of white seats surrounding an oak table gives the atmosphere a Scandinavian feel and paper snowflakes celebrate the season.
Holly Marder
Straightforward Pastel Tablescape
Take a break from the typical green and red colour combo, and transition into a serene and soothing palette of pastel pink, soft gray and white. This setting features pretty pastel-hued blossoms, shimmery candles and sweet particulars, bringing a new feel to a Christmas or New Year's Eve gathering.
Holly Marder
Utilize an assorted selection of white seats to brighten your vacation setting Scandinavian style.
Chairs: vintage (foreground); Ahrend (opposite)
Holly Marder
A simple sprig of freesia set on a white napkin makes an understated adornment to the holiday table.
Tea light candleholders: Broste Copenhagen
Holly Marder
Tiny ceramic owls inside glass domes add whimsy to this modern tablescape.
Glass domes: &K Amsterdam
Holly Marder
Create two easy floral bouquets with pink, peach and white roses; white ranunculus; and small pink arum lilies. Organize your preferred blossoms in a tight group, tie them together at the stalks with twine and set the bouquets in short vases filled with water for a feminine and fresh look.
Vase: Serholt Sweden
Dinnerware: Xenos; wineglasses: Ikea; table runner: Tas-ka; tea light candleholders: Broste Copenhagen; pastel pink candleholders: Serholt Sweden; Deadlylowers: Ruud en Marcel Bloembinders, Delft; location: Nu Interieur | Ontwerp, Delft