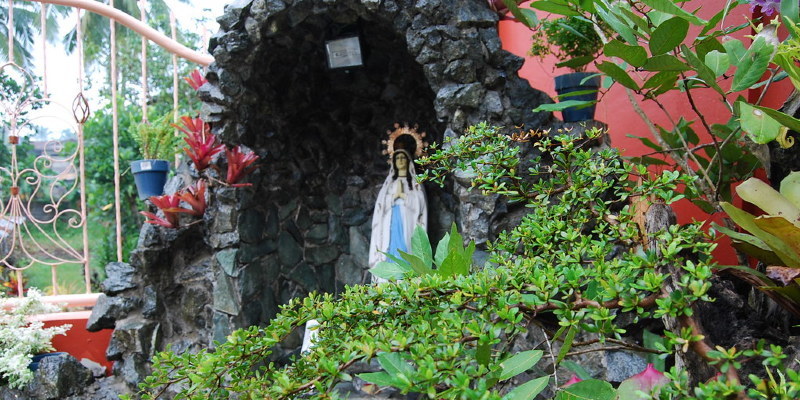 Quick-growing hedges create a plant wall of dense greenery. They hide unwelcome views, act as obstacles, create privacy displays and protect tender plants in harsh wind. Pick the plants that best match your growing conditions, including sun and shade tolerance.
Coniferous Trees
A couple coniferous trees bear both sun and shade exposure, while responding well to shearing to your hedge. "Green Sport" western red cedar (Thuja plicata "Green Sport") grows best in U.S. Department of Agriculture plant hardiness zones 5 through 9. These cedar trees with shiny green needles grow rapidly until they reach 12 feet tall and will rise to 70 feet if not pruned. This evergreen plant tolerates very wet areas. Pyramidal arborvitae (Thuja occidentalis "Pyramidalis") naturally rises in a pyramidal shape with soft-textured evergreen needles. This North American native tree attains up to 25 feet tall without trim, spreading 3 to 6 feet wide.
Evergreen Trees
Certain evergreen trees grow quick enough to produce a full-size hedge and generate a dense obstacle when grown in full to partial sun. Box-leaf azara (Azara microphylla) attains 15 feet tall and 12 feet wide with a column-like shape covered in little glossy green leaves. Fragrant clusters of white flowers appear from mid-winter until spring followed by shiny berries in the early spring in USDA plant hardiness zones 7 through 10. Ovens wattle (Acacia pravissima), in USDA zones 8 through 11, attains 20 feet tall if left untrimmed with blue-green leaves covering crying branches. This Australian indigenous produces delicate yellow honey-scented flowers from late winter to early spring.
Deciduous Shrubs
Deciduous shrubs with dense branches create quick-growing hedges that resemble thickets in the winter. "Orange Rocket" barberry shrubs (Berberis thunbergii "Orange Rocket") create coral-orange fresh leaves, which turn green as they age and then turn ruby crimson in the fall. This erect shrub with tiny yellow flowers reaches 4 1/2 feet tall and 1 1/2 feet wide in USDA zones 4 through 9. "William Penn" barberry (Berberis x gladwynensis "William Penn") rises arching branches 4 feet tall spreading 4 to 6 feet wide with little shiny green leaves and tiny bright yellow blooms in the spring. In USDA zones 6 through 9, the leaves turn bronze in the fall and ornamental berries grow in the late fall. These two bushes prefer places with full to partial sun exposure.
Evergreen Shrubs
Evergreen shrubs keep their leaves throughout the winter months developing a compact hedge. Japanese laurel (Aucuba japonica) rises well in USDA plant hardiness zones 6 through 10 in full sun to partial shade exposure, reaching 10 feet tall and wide with dark green leaves speckled with yellow spots. Small reddish-purple flowers appear in the spring using red berries developing in the fall on the female plants. This tree adapts to most soils, except very wet soil. "Kiss And Tell" hibiscus (Hibidcus rosa-sinensis "Kiss And Tell") creates 6- to 7-inch-wide deep red flowers blooming all year round in USDA zones 9 and 10 attracting butterflies and birds to the fall. This 6- to 8-foot-tall evergreen tree is covered with shiny dark green heart-shaped leaves and grows well in full to partial sun spots.