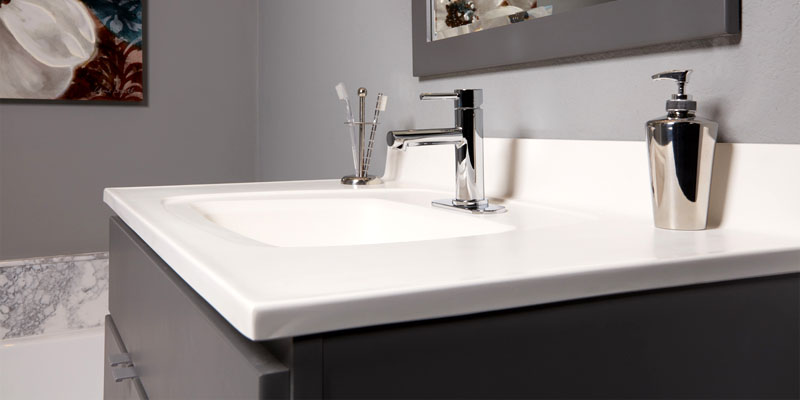 Who said your bathroom countertops should be boring? There's so much emphasis that's placed on kitchen surfaces, and bathroom are not given much thought. This is in terms of design used, materials and style.
Here are 4 materials that can be used on bathroom surfaces.  
You can decide which one is the most ideal for you:
Ceramic Tiles – Good
There's a divergent opinion among interior designers whether to go for ceramic material or granite in the bathroom. One of the major differences between these two kinds of materials is cost. Ceramic is way cheaper than granite. However, granite tile is cheaper than a granite slab.
The good thing about opting for a tile of any material is that it is easy to transport cut out, layout, mortar and grout. This makes it easy to use for a do-it-yourself project.
The major difference between kitchen surfaces and bathroom surfaces is the number of seams. The fewer the seams on kitchen surfaces, the better, while the number of seams on bathroom surfaces doesn't really matter. This makes solid slabs a great option for kitchen surfaces.
Laminate Countertops – Good-to-Better
Laminate has evolved over time from ugly, metal edged laminates to more modern surfaces that almost look like granite. However, it still has a hollow and light feeling of particleboard.
This material is used in areas of your house that are not frequently used. This includes guest bathrooms or basement.
They are not ideal for high-end installation. If you have an expensive looking house, then this is something that you don't want to go for, since it won't give a premium look.
Solid Surface – Better
Solid surface has been used for bathroom handyman Cedar Rapids for quite some time now. They provide functionality and flexibility.
The solid surface includes materials like Silestone or Corian. However, keep in mind that these surfaces can easily get burnt if they get in touch with hot bathroom equipment, such as curlers.
This kind of material is best used if you are working on a do-it-yourself project. It's also ideal for anyone who wants to get their house ready for sale.
The bad thing about this kind of surface is that it can easily get scorched or scratched.
Granite Slab – Better-to-Best
Granite slab is quite a popular option when it comes to . However, you should also consider using modular granite. Modular granite is in the form of sheets. These sheets are traditionally smaller than granite slab, yet they are much bigger than granite tiles.
This enables you to work on this as a DIY project while keeping the number of seams to a minimum. You might end up with two or three seams, considering that bathroom counters are usually not as big as kitchen counters.
This material is best used if you are trying to get a natural shine look since no artificial stone can be able to completely replicate the look of natural stone.
The worst thing about it is that it needs to be sealed on a regular basis.